Serving Justice: Food Industry as Path to Opportunity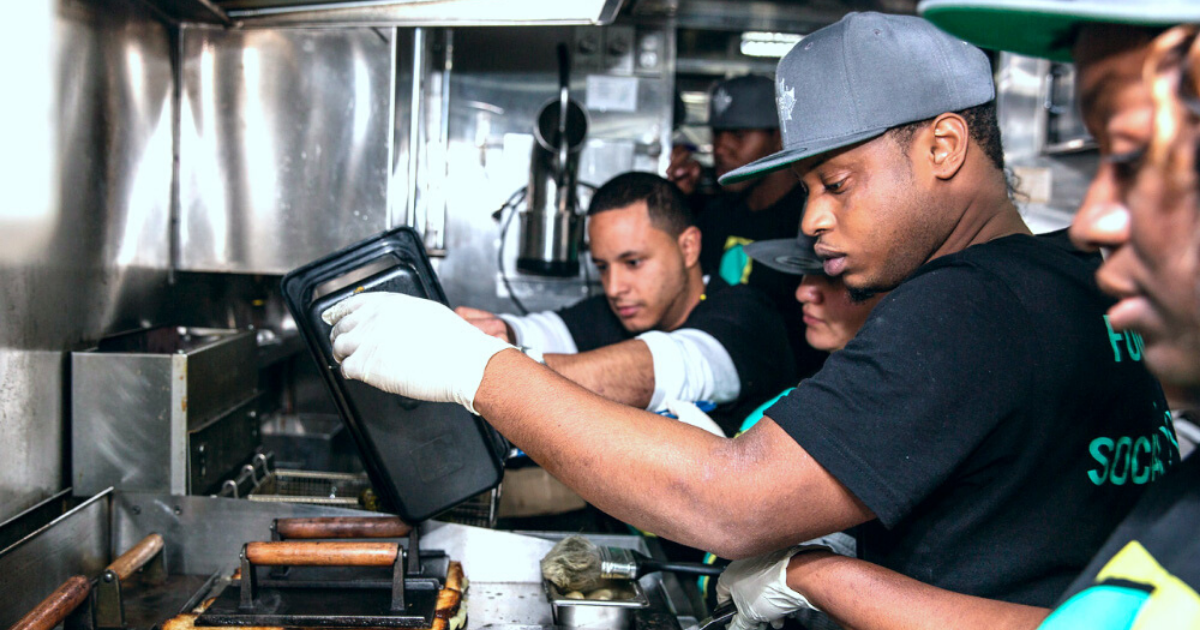 Serving Justice
Food Industry as Path to Opportunity
By Samantha Diliberti
As legend tells it, prison is where one pays his or her debt to society. Once this debt is paid, one is free to go – free to re-enter society with a newfound appreciation for the law and the freedom this great nation affords.
In reality, the debt is never fully repaid.
Upon release into society, people with records begin what is called the silent punishment – encountering barriers to housing, loans, family rights, and employment. These barriers are often set up for life, impacting someone who served time as a teenager well into their 40s and beyond.
Jordyn Lexton was a teacher on Rikers Island. During their three-year tenure, Jordyn found that their 16-year-old students where just like any other kids.
"My students had the same hopes and aspirations for their futures," said Jordyn, "but completed their sentences and left Rikers burdened with open felony convictions rather than sealed juvenile adjudications."
Juvenile adjudication is the "sentence" a judge passes on an adolescent which remains sealed. However, young adults prosecuted in the adult court system are burdened with life-long open records.
Jordyn saw an opportunity.
In 2014, Jordyn founded the nonprofit Drive Change, an employment and awareness-raising organization that uses the food industry as an access tool.
"Kids released from jail or prison struggle to find jobs," said Jordyn, "while, at the same time, restaurants in New York City indicate low employee retention rates and the need for entry-level talent."
Drive Change began training justice-involved youth ages 18-25 in the food and hospitality industry through the use of the Drive Change food truck. This "Serving Justice" model offered paid training to eight fellows re-entering society in applicable job skills such as food preparation and communication, with the goal of preparing them for long-term careers in the city's dining and hospitality industry.
"Ultimately, the food truck model wasn't scalable," said Jordyn. "We wanted to impact more lives, so we launched the Hospitality for Social Justice Fellowship."
Through the new fellowship model, Drive Change partners with like-minded New York food businesses that are invested in utilizing their employment opportunities to develop the professional and social skills of formerly incarcerated youth. What is unique about the new program is its bi-directional approach.
"This new program trains both youth returning to society and the managers of the workplaces we're partnering with," said Jordyn. "This bi-directional approach is important. In order for these youth to succeed, the managers in the workplace need to be informed and equipped with the skills to work through any difficulties that may arise during the 10-month training process."
The Hospitality for Social Justice program begins with a two-month in-house bootcamp focused on front- and back-of-house training fundamentals and the program's five essential skill pillars: communication, conflict resolution/problem solving, time management, diligence, and grit.
"The bootcamp months are also steeped in raising awareness about the social and racial injustice in our criminal justice system and in the food hospitality industry," said Jordyn. "It's important that our Fellows understand the context in which they're operating. They've experienced racism and injustice firsthand and we want to equip them with the skills to navigate this society."
Managers at partnering businesses partake in a two-day Hospitality for Justice training course that educates managers on implicit bias, gender and racial equity in the workplace, and is centered in social justice.
Once the bootcamp phase is completed, Fellows begin employment with the partner businesses four days per week for eight months, with one day reserved for professional development and team building at Drive Change headquarters. Throughout the program, Drive Change coaches offer support to both the managers and Fellows and provide 24/7 available support. Drive Change coaches check-in with Fellows daily and connect with managers at least once per week for 30 minutes.
"So much more goes into preparing someone for the workforce than just hard job skills," said Jordyn. "Learning communication and conflict-solving skills, building up confidence – even learning time management is a privilege that people who aren't discriminated by the system take for granted."
Drive Change aims to collect data to prove the value-add of the Hospitality for Social Justice training, such as higher retention rates, lower recruitment costs, more equitable workplace environments, and culture shift.
"We believe consumers are becoming more socially conscious," said Jordyn, "especially when it comes to dining. People already demand to know where their food comes from. We think that next they will demand to know if the workplace offers equitable employee treatment."
While Drive Change has moved away from its food truck training model, the organization is still using it to effect change.
"We use the food truck for our A+A days," said Drive Change Operations Manager Kirk Archibald.
A+A stands for Awareness and Access. On Awareness Days, Drive Change parks the food truck in highly populated areas in New York City and serves a dish designed by a formerly incarcerated guest-chef. Drive Change staff use this opportunity to engage and educate the public on issues such as the #CLOSERikers Campaign, bail reform, and the low-quality food provided to inmates.
On Access Days, the food truck travels to food-insecure neighborhoods, or an area that lacks access to fresh, healthy food options. There, Drive Change serves a dish to members of the community while engaging and educating them on issues that directly impact their community, such as local food justice and social justice issues. The food truck returns to the same neighborhood for three months in order to build a relationship with that community.
"A+A days were designed to engage both the public and volunteers," said Kirk. "Our food truck outreach season begins in May and runs through October. It's a great way for people who care about this issue and who want to volunteer to get involved."
In New York, adolescents carrying adult convictions have a 70 percent recidivism rate within three years of release. The silent punishment – particularly barriers to employment – are often cited as contributing to this right rate.
A 2008 study conducted by the Urban Institute Justice Policy Center reported a strong correlation between wages and recidivism, finding that previously incarcerated individuals who secured a job making more than $10 an hour were half as likely to return to prison as those making less than $7 per hour.
"Our criminal justice system is classist and racist," said Jordyn. "We need to ensure kids returning home have access to preferable employment opportunities and work raise awareness about this unjust system and how to change it."
Drive Change is on the road to doing just that.
To learn more about Drive Change events, A+A Days, and training opportunities, sign up for the newsletter at www.DriveChangeNYC.org.